"You have to respond to the crowd," says Neymar, holding Lee's hand
PSG arrives in Busan training scene is hot!
Pre-season friendly against Jeonbuk today
Enrique: "Lee is in good shape to play"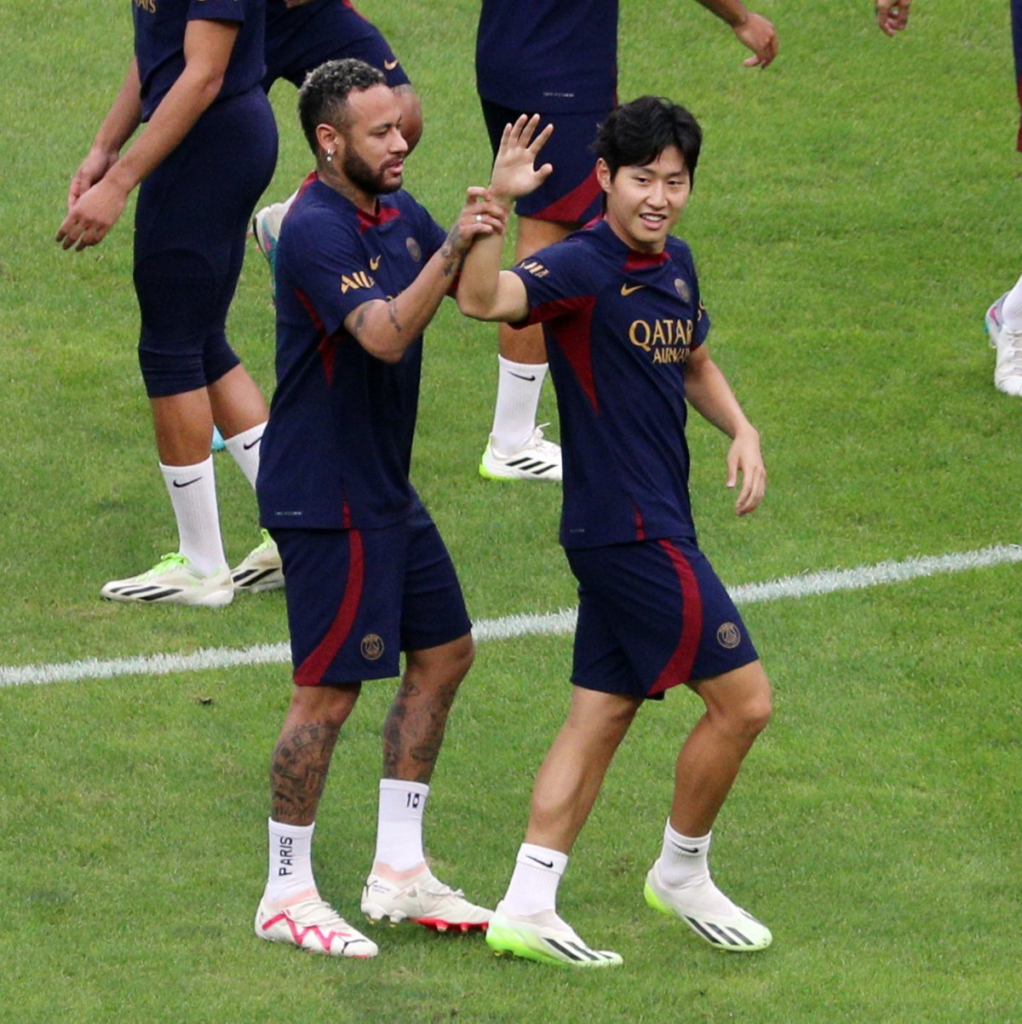 "It's so good. It's an honor to play in Korea with such a good team."
'Shoot-doll' Lee Kang-in, 22, visited South Korea for the first time since joining the prestigious French professional soccer club Paris Saint-Germain (PSG) for two days. Lee came to South Korea for two days to participate in PSG's Asia tour ahead of the start of the 2023-2024 French Ligue 1 season, which begins on Wednesday. PSG will play a friendly match against Jeonbuk of the South Korean professional soccer K League 1 (1st Division) on Wednesday at 5 p.m. at the Asiad Stadium in Busan.
PSG head coach Luis Enrique said at a press conference after his arrival, "Lee Kang-in is in good shape to play. I don't know how many minutes he will play, but he will definitely play tomorrow," said Luis Enrique, confirming that Lee will start against Jeonbuk. "If the coach gives me a chance to play tomorrow, I will do my best," Lee said. Lee did not play in the three matches of the Asian tour in Japan before arriving in South Korea due to a thigh muscle injury. PSG played Al Nasr (Saudi Arabia), Cerezo Osaka (Japan), and Inter Milan (Italy) in Japan.
On the day of their arrival, PSG held an open training session at the Asiad Stadium in Busan at around 6:50 p.m., giving fans an inside look at the team's training. When Lee appeared on the field in a PSG training uniform, the 2,000 fans in attendance chanted his name. Each time Lee's image was shown on the stadium's big screen, cheers erupted. Lee's teammate Neymar (BRA), who has been dubbed the "Pele successor," grabbed Lee's hand and shook it as the fans chanted his name.
Hundreds of fans flocked to the airport to see the PSG squad, which arrived at Gimhae International Airport at around 2:30 p.m. after a chartered flight from Tokyo, Japan. Even though the team's arrival was more than an hour later than scheduled, fans waited for the players with PSG jerseys and paper plates with chants.
When Lee appeared in the arrivals hall with Neymar, wearing a PSG tracksuit and cap, the fans cheered in unison and pressed the camera button on their cell phones. Unlike most players, who go straight to the team bus, Lee signed autographs for the fans before heading to the bus. Lee, who was back in Busan for the first time in two months after the A-Match against Peru at the same venue in June, looked relaxed as he waved and greeted the fans. 카지노사이트 The hotel where the PSG players stayed before the open training session was also crowded with fans trying to get Lee's autograph.